ZENITH C
ZENITH C is compact, easy to deploy and low cost E-Band (71-77 / 81-87 GHz) lïnk especially designed for building backbones networks and high capacity point-to-point bridges. With the maximum capacity 2.6 Gbps and advanced Ethernet features it's an ideal device for all kinds of telecomunication applications. Combination of ultra high capacity, great threshold sensitivity, high output power and hitless ACM makes the ZENITH C usable for much greater range then expected. The support of the latest Ethernet standards as SyncE, IEEE 1588v2, MEF 2.0 or G.8032 makes ZENITH C ready for next-gen Ethernet data & telecomunication networks.
Compact Full Outdoor design and direct antenna mount ensure fast installation, easy maintenance and great reliability. With built-in surge protectors and our unique Protected terminal box you can rely on uninterrupted service under all climatic conditions.
ZENITH C - ultra high capacity solution with the latest Ethernet features in compact All Outdoor design.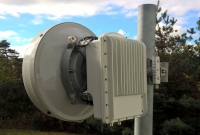 Main features:
License free or light licensed 80 GHz band (71-77 / 81-87 GHz)
Full Outdoor design
User capacity up to 2.6 Gbps full duplex
Channel bandwidth 250 / 500 MHz, modulation scheme up to 256 QAM
Output power up to +20 dBm with ATPC
Low latency
High interference immunity and threshold sensitivity
1 Gbps copper Ethernet port, two SFP ports (1 Gbps + 2.5 or 10 Gbps)
Hitless ACM
Optimized for Tripleplay services - IPTV, VoIP, Eth
MTU 9600 B
In band management
SNMP protocol
Proprietary web-based management system
High performance antennas 0.35 and 0.65 m

Full surge protection in the ODU and in the protected terminal box

System configurations 1+0, 1+1, 2+0
Ethernet features:
MTU up to 9600 B
MEF 2.0
VLAN management
G.8032 support
RMON statistics
Packet fragmentization to minimize jitter
Carrier Ethernet protocol stack
Typical applications:
Backbones in urban areas
Mobile RAN networks - 4G/LTE/WiMAX macrocell backhaul for access and integration
Last mile fiber extension