ALCOMA ASD Client
ASD Client
Diagnostic program ASD Client is a general system for diagnostics and maintenance of all ALCOMA units in your network. It is a MS Windows application. ASD brings you some principal advantages comparing to the common web browser oriented systems – real time monitoring with no necessity of waiting for refresh, every change or command is immediately seen in the diagnostic application. You can monitor or set or maintain  the whole link, e.g. both terminals together and information from both terminals can be seen at once. Full duplex synchronous channel is used for transmission of status and service signals between both terminals. Communication with opposite terminal station works even when Ethernet connection does not work because of high BER. Even in this case operator can easily send commands to the remote station – for example switch off and on microwave transmitter. Service channel works up to BER=10-2  comparing to the Ethernet communication which interrupts connection when BER=10-6 . This is the main advantage comparing to the Ethernet  only oriented diagnostic systems.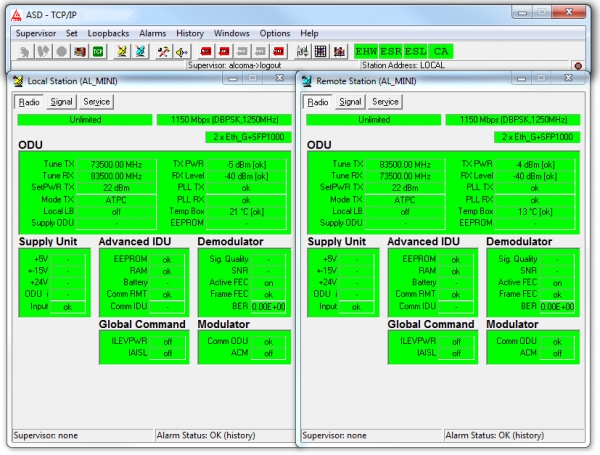 Another very useful functionality is automatic return to the last known operational status in case of putting a command which results to the link disruption. Typical examples are operator's errors or tuning the link to the channel interfering with another link and loss of remote station communication. Automatic back step and restore of operation is performed when there is no communication with opposite station within set time interval, this means the operator does not cut himself from the remote station.
Complex information about all parts of the link and all parameters is displayed on ASD Client screen. All those data are permanently monitored and exceeding of any threshold is recorded to the history of alarms log. This log contains detailed list of all alarms occurred. It is very useful when you look for a specific problem reason. It is also possible to send an SNMP trap or get the link status using SNMP
ASD also contains some complementary functions – for example spectrum analyzer is very useful for license exempt links when you look for a free channel. Others are constellation display, Ethernet interface status, generation of graphs with Rx level history, Tx power history, temperature history etc. for various time intervals.
It is possible to switch ASD client to so called Network Mode for monitoring a network of links. You can see current status of all links in the network on one screen. You can enter to any of the displayed units in local mode by mouse click. All the links in network modes are showed in lines with easy identification. They show their status change by color change. Links are pooled parallelly in Network mode, so responses are faster and network maintenance and administration is easier. The network mode interface is similar to the ASD Server one – see screenshot lower.
Diagnostic software can be run also in LINUX in WINE. Tested WINE release is 0.9.25 in Debian Linux (ETCH) distribution.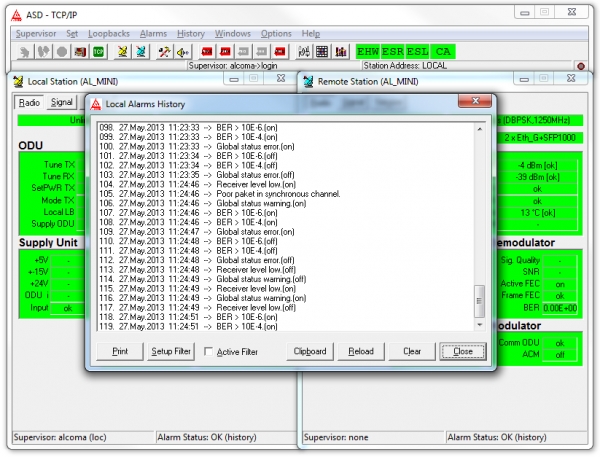 .
ASD Client advantages summary
Real time information showing
Both terminals showed and set together at once
Unified access to all ALCOMA links
Proprietary service communication protocol between units
Protection against faulty setting thanks to automatic back step
Detailed history listing with fixed and overwriting parts
Advantageous usage of Network Mode for mid size networks
ASD Server
ASD server application is server extension of ASD Client program which enables more management possibilities and simple, effective and reliable real time monitoring of ALCOMA units in a network.
ASD Server monitors status of single stations in a network over Ethernet, modem or RS-232 interface. Monitoring is real time and parallel for all stations. MS SQL Server database serves as a storage for configuration and network topology information. Selected detailed alarm events and alarm status of each terminal are exported to the database. MS SQL Server is able to send a SNMP trap to the master diagnostic system in case of receiving the alarm message.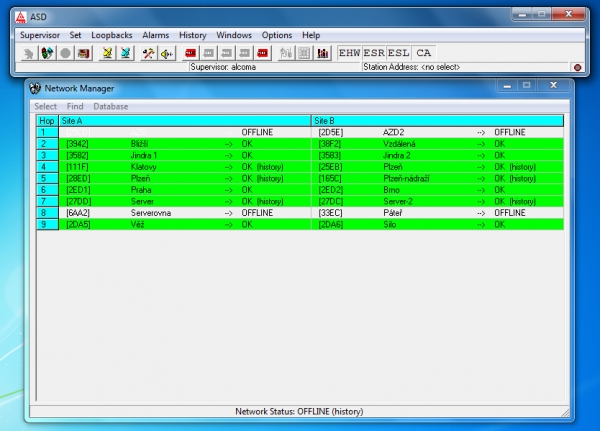 The main ASD Server advantage is transferring error and alarm messages using proprietary protocol with transfer confirmations. This is the main difference comparing to the standard SNMP traps with no confirmation and not guaranteed receipt.
The ASD Server works as northbound/southbound interface – gateway which takes care of communication with the lower system level equipment and sends the information to the higher system level. The alarms from single equipment are gathered in one place using confirmed proprietary protocol and afterwards they can be transferred for secondary processing using customer's proprietary web application, e-mail or SNMP traps.
ASD Server advantages summary
Complete monitoring of all ALCOMA links in network in one application/screen
Real time information showing
Simple access to all ALCOMA links
SQL Server stored alarms and history of all links
Confirmed transmission of link alarms to the server
Possibility of sending SNMP traps from the Server